Analysis of the formation of autophagosomes by semisynthetic LC3 proteins
The interest on autophagy, an evolutionarily conserved process in eukaryotes, has enormously increased in the last years, since the malfunctioning of autophagy is involved in many diseases such as cancer or neurodegenerative states. Autophagosome formation is the key process in autophagy. Despite extensive work, the model of autophagosome formation is not yet fully established. Some important questions remain to be elusive, such as where the bona fide marker protein of autophagosome, LC3, is lipidated, how lipidated LC3 functions in autophagosome formation, and how the proteins for LC3 lipidation and delipidation are involved in autophagosome formation.
Although genetic approaches have been powerful to dissect autophagosome formation process, intrinsic limitations include the lack of acute manipulation in protein activity. We will prepare semi-synthetic LC3 and lipidated LC3 proteins and use them to monitor dynamics of autophagosome formation in vitro and in cells. The semi-synthetic LC3 proteins will render such studies possible, and provide valuable tools for dissecting the autophagosome formation process. The project is multidisciplinary. On one hand, the establishment of semi-synthetic LC3 proteins will open up a new avenue for studying autophagosome formation. On the other hand, the application of the tool will shed light on the mechanism of autophagosome formation.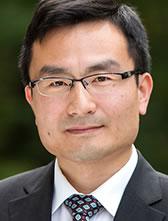 Dr. Yaowen Wu
Max-Planck-Institut für molekulare Physiologie
Tel.: +49 231 133 - 2364
Fax: +49 231 133 - 2399
Publications within the SPP 1623 project
A. Yang, S. Pantoom, Y.W. Wu
ChemBioChem 2020, 21(23), 3377-3382
Distinct Mechanisms for Processing Autophagy Protein LC3-PE by RavZ and ATG4B
Link to the article
A. Yang, I. Hacheney, Y.W. Wu
Bioorg & Med Chemistry 2017, 25(18), 4971-4976
Semisynthesis of qutophagy protein LC3 conjugates.
Link to the article
S. Pantoom, A. Yang, Y.W. Wu
Autophagy 2017, 13(8), 1467-1469
Lift and cut: Anti-host autophagy mechanism of Legionella pneumophila.
Link to the article
X. Chen, M. Venkatachalapathy, D. Kamps, S. Weigel, R. Kumar, M. Orlich, R. Garrecht, M. Hirtz, C.M. Niemeyer, Y.W. Wu, L. Dehmelt
Angew. Chem. Int. Ed. 2017, 56(21), 5916-5920
"Molecular Activity painting": Switch-like, Light-Controlled Perturbations inside Living Cells (Hot paper, inside cover story)
Link to the article
A.Yang, S. Pantoom, Y.W. Wu
Elife 2017, pii:e23905, DOI: 10.7554/eLife.23905
Elucidation of the anti-autophagy mechanism of the Legionella effector RavZ using semisynthetic LC3 proteins.
Link to the article
S. Voss, D.M. Krüger, O. Koch. Y.W. Wu
Proc. Natl. Acad. Sci USA 2016, 113(50), 14348-14343
Spatiotemporal imaging of small GTPases activity in live cells.
Link to the article
L. Zhao, C. Ehrt, O. Koch, Y.W. Wu
Angew. Chem. Int. Ed.2016, 55(28), 8129-8133.
One-Pot N2C/C2C/N2N Ligation To Trap Weak Protein-Protein Interactions.
Link to the article
X. Chen Y.W. Wu
Org. Biomol. Chem. 2016, 14(24), 5417-5439.
Selective chemical labeling of proteins.
Link to the article
S. Voss, L. Klewer, Y.W. Wu
Curr. Opin. Chem. Biol. 2015, 28, 194-201
Chemically induced dimerization: reversible and spatiotemporal control of protein functionin cells.
Link to the article
X. Chen, F. Li, Y.W. Wu
Chem. Comm. 2015, 92, 16537-16540
Chemical labeling of intracellular proteins via affinity conjugation and strain-promoted cycloaddition.
Link to the article
A. Yang, L. Zhao, Y.W. Wu
Topics Curr. Chem. 2014, 362, 137-182
Chemical synthesis and biological function of lipidated proteins.
Link to the article
P. Liu, A. Calderon, J. Hou, G. Konstantinidis, X. Chen, L. Fu, S. Banerjee, I. Dehmelt, Y.W. Wu
Angew. Chem. Int. Ed. 2014, 53(38), 10049-10055
A bioorthogonal small-molecule switch system for controlling protein function in cells
Link to the article
S. Voss, L. Zhao, X. Chen, F. Gerhard, Y.W. Wu
J. Pep. Sci.2014, 20(2), 115-120
Generation of an intramolecular three-color FRET probe by site-specific protein labeling
Link to the article
W. Liu, F. Li, X. Chen, L. Yi, Y.W. Wu
J. Am Chem Soc2014, 136(12), 4468-4471
A rapid and fluorogenic TMP-AcBOPDIPY probe for covalent labeling of proteins in live cells
Link to the article
F. Li, I. Yi, I Zhao, A. Itzen, R.S. Goody, Y.W. Wu
Proc. Natl. Acad. Sci. U.S.A. 2014, 111(7), 2572-2577
The role of the hypervarialbe C-terminal domain in Rab membrane targeting
Link to the article
A. Yang, Y. Li, S. Pantoom, G. Triola, Y.W. Wu
Chembiochem2013, 14(11), 1296-1300
Semisynthetic Lipidated LC3 Protein Mediates Membrane Fusion (Cover story)
Link to the article