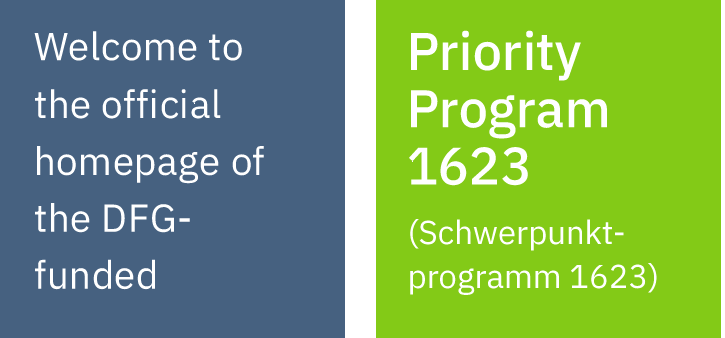 Chemoselective reactions for the synthesis and application of functional proteins
---
In 2012 chemists, biochemists and biophysicists from all over Germany started the interdisciplinary research association "Priority Program 1623/Schwerpunktprogramm 1623". One of the main goals is the development of innovative methods for the synthesis of proteins with exceptional biological importance, in particular by combining chemical and molecular biological approaches.
The Priority Program 1623 aimed to establish new methods for the synthesis of functional proteins to apply them in answering biological questions (for example, in the field of signal transduction, glycobiology, or histone research) and to obtain new diagnostic or therapeutic approaches. In two three-year funding periods (2012 - 2015 and 2016 - 2019), 35 project leaders were funded in a total of 22 projects (including 10 single, 10 tandem, and 2 triple projects), in which numerous innovative methods for convergent protein (semi)synthesis were developed and subsequently described in top-notch publications. These methods include new ligation strategies, chemoenzymatic or bioorthogonal reactions, and the site-specific incorporation of highly reactive unnatural amino acids into proteins by amber suppression methods.
Scientists of the SPP succeeded in combining new biochemical methods (TTL ligation, enzymatic phosphocholination, reverse proteolysis, orthogonal formylglycine generating enzymes, optimized split proteins, sortase ligations, or unnatural protein translations) with chemoselective reactions to link different proteins (including receptors, different antibody formats, and histones), both in vitro and in living cells with functional modules such as fluorophores, chemical probes or drugs. Furthermore, they introduced new approaches for bioorthogonal modification of sugars on the surface of living cells by metabolic glycan engineering as well as new chemoselective ligation and conjugation reactions and applied them for the functionalization of numerous proteins and antibodies. Other highlights of the SPP include the semisyntheses of proteins with highly sophisticated post-translational modification patterns, which provided important insights into the natural function of phosphorylations, lipidations, glycosylations, and ubiquitylations.
These methods resulted in the establishment of entirely novel research approaches with particular relevance to molecular life sciences, such as the transport of (semi)synthetic proteins and fluorescent antibodies into living cells, new methods for high-resolution fluorescence spectroscopy, and optochemical methods for the study of GPCRs. Finally, several projects developed new antibody and protein conjugates for pharmacological applications, particularly antibody-drug conjugates (ADCs) as new biopharmaceuticals against cancer or protein conjugates as antiviral agents. These led to several patent specifications and successful company foundations, in particular by former doctoral students of the SPP.
In parallel to these outstanding scientific achievements, the SPP 1623 enabled the promotion of young scientists both at the doctoral and junior group leader levels, ensured gender equality measures and organized scientific gatherings. These included, on the one hand, SPP internal reporting and doctoral meetings, and on the other, international symposia such as the Chemical Protein Synthesis (CPS) Meetings 2013, 2015, 2017, and 2019, which contributed sustainably to the visibility of this highly successful priority program.